Blog post
Release of Tasty Trek
2014.10.16
Comments Off

on Release of Tasty Trek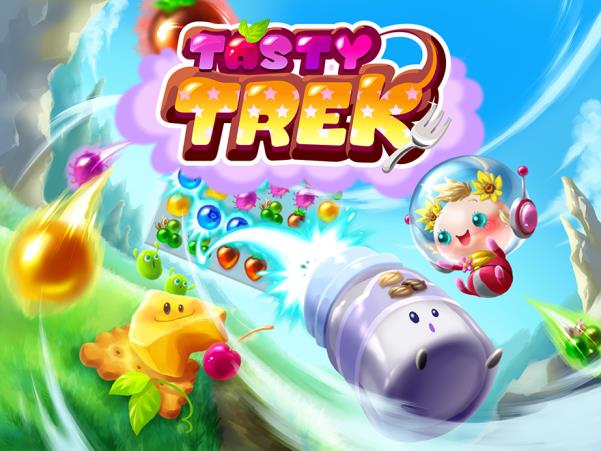 With U Gaming Application "Tasty Trek" Officially Releases October 8, 2014 (Wed.) Set Off on a Journey to Solve Puzzles and Help the Unique and Adorable Residents of Tasty Trek alongside Popular Character Molly from "Happy Ningels"
Tasty Trek, which was a hit at TOKYO GAME SHOW 2014 and has been available in beta edition until now, will hit Facebook's App Center as an official release at last.
SAPPORO, Japan – At 2:00 PM (JST) on Wednesday, October 8th, 2014, With U Co., Ltd. released the official version of fruit-filled match-3 puzzle game Tasty Trek, a browser-based application for Facebook.
Tasty Trek features our old friend Molly in the follow-up to popular gaming application Happy Ningels. It is a browser-based application for Facebook with a refreshing fusion of puzzle and slot elements in which players clear pieces with a single stroke rather than reshuffle them.
Players will experience the thrill of clearing immense, feature-packed stages and the excitement of "Shake Time" that was a big hit at September's TOKYO GAME SHOW 2014.
The official release of Tasty Trek features "Stage 5" and "Stage 6" which were previously unplayable in the beta edition and more stages are planned for the future. In addition, in-game items will now be available for purchase in the shop.
Players can also enjoy sharing scores, competing, and exchanging free items with their Facebook friends in Tasty Trek and mobile versions (Android & iOS) are planned for the near future.
Whether it is the exhilarating sensation of strategically clearing a group of pieces with a single stroke or the feeling of excitement at the chance to turn an unfortunate situation into an advantageous one through the fusion of slot and puzzle elements, we hope you'll take this opportunity to experience the world of Tasty Trek with Molly and friends from Happy Ningels alongside other adorable characters.
Set off on a journey to solve puzzles and help the unique and adorable residents of Tasty Trek alongside Molly! (Free-to-Play with In-App Purchases)
G with U on Web : http://www.gwithu.com/index.html
Tasty Trek on Facebook: https://www.facebook.com/TastyTrek
Happy Ningels on Facebook: https://www.facebook.com/happyningels2013
Contact
Yasunao Yoshikawa
With U Co., Ltd
Tel:+81-011-261-9901
Mail:press@wizyou.co.jp
Fax:+81-011-261-9902
Return Top