Blog post
Molly and Eme Participate in Meeting of Mascots at New Chitose Airport
2015.09.01
Comments Off

on Molly and Eme Participate in Meeting of Mascots at New Chitose Airport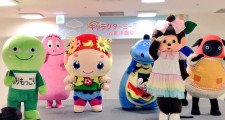 Molly and Eme Participate in Meeting of Mascots held at New Chitose Airport Terminal July 18th through 20th
Main character Molly and her compatriot Eme from With U Co., Ltd.'s Happy Ningels participated in the "Meeting of Mascots" event held in the Shō event hall on the third floor of the Domestic Terminal Building of New Chitose Airport Saturday, July 18th through Monday, July 20th.

Molly and Eme were joined by fellow mascots throughout the event, pairing with Memori-chan on the 18th and both Koakkuma and Akkuma on the 19th, before Barbapapa joined them for the final day. With special on-stage photo ops organized each day alongside the mascots, the event was a hit with spectators.
During the three-day event, official Happy Ningels merchandise—well-received at last year's Sapporo Collection–was available for purchase at a special pop-up stall.
Official Happy Ningels merchandise available for purchase here:

Return Top