Blog post
Molly and Eme Perform at the 24th Yosakoi Soran Festival
2015.06.23
Comments Off

on Molly and Eme Perform at the 24th Yosakoi Soran Festival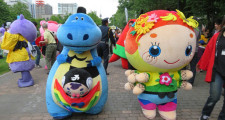 Pair Participates in Dance Festivities at "Waodori Square" in Odori Park, Amidst the Lush Greenery of Sapporo in Early Summer
As part of the 24th Yosakoi Soran Festival, main character Molly and her compatriot Eme from With U Co., Ltd.'s Happy Ningels made an appearance on Saturday, June 13th, at the "Waodori Square" in Odori Park (Nishi 7-chome).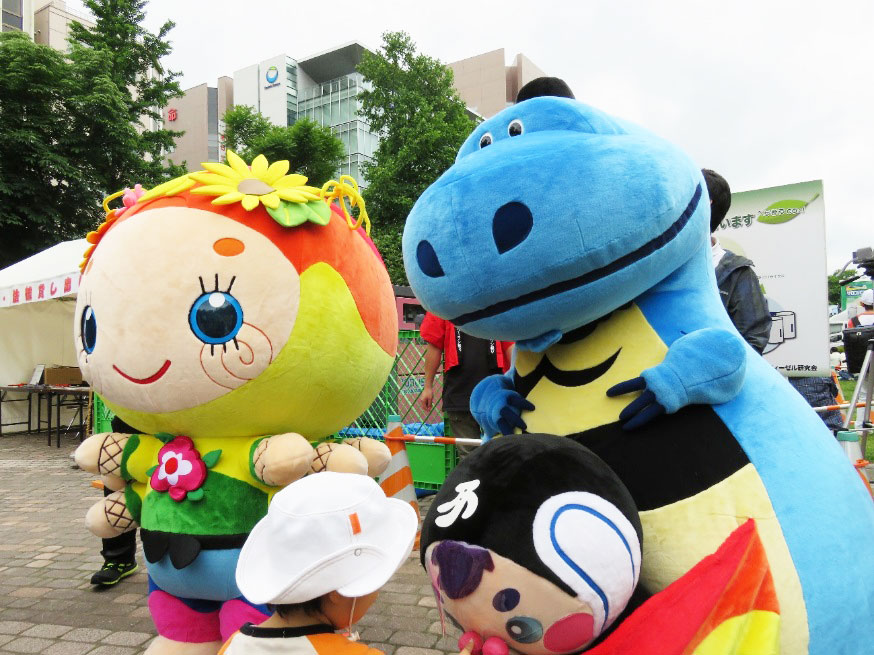 Marking the onset of early summer in Hokkaido, the Yosakoi Soran Festival was first held in 1992; inspired by the Yosakoi Festival of Kochi Prefecture, the event combines use of naruko clappers from the Kochi festival with the sōran bushi folk songs of Hokkaido. Donning colorful outfits and with clappers in hand, festival dancers bring these melodies to life in dramatic fashion. While centered around Odori Park, various venues throughout the city serve as the stage for this remarkable event, during which a lively atmosphere permeates the city center. The 24th Yosakoi Soran Festival was held June 10th through 14th, 2015.
Visitors who feel like participating in the festivities are welcome to do so at Waodori Square, the only festival venue where anyone and everyone can freely join in the dancing fun. In this area open to festival performers and spectators alike, Molly and Eme were joined by a cast of fellow yuru kyara (regional and promotional mascots) for a 20-minute wa-odori dance performance. The overcast weather from earlier in the day gave way as the sun emerged from behind the clouds just in time for Molly and Eme's 2:00 PM appearance, and the square came to life with the energy of the dance participants.
Following introductions for all the yuru kyara assembled for the event, the mascots joined together to form a giant circle and dance. The day's events at Waodori Square provided a wonderful opportunity to meet fans and new friends, and bring smiles to their faces.



Official Twitter Account for With U Co., Ltd.:
https://twitter.com/WithU_news
Happy Ningels Happy Stickers Vol. 1:
https://store.line.me/stickershop/product/1055709/ja
Return Top