Blog post
Confirmation of Participation in Tokyo Game Show 2017 Introducing the World of Popular Game Happy Ningels
2017.09.08
Comments Off

on Confirmation of Participation in Tokyo Game Show 2017 Introducing the World of Popular Game Happy Ningels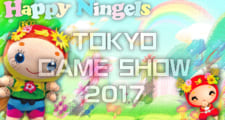 With U Co., Ltd. will participate in the Tokyo Game Show (TGS) held in September this year. To introduce visitors to the world of Happy Ningels and promote related merchandise, the gaming division "G with U" will set up in the collaborative Hokkaido Mobile Content Promotion Project booth, with a separate exhibition space in the Family Game Park area.

Happy Ningels Booth Info
Where:               Tokyo Game Show 2017
When:                Thursday, September 21st –Sunday, September 24th (10 AM–5 PM)*
What:                  Happy Ningels game kiosks, related merchandise display
*The collaborative booth will be open all four days, while that in the Family Game Park area is limited to the weekend days open to the general public (entry to the latter is restricted to children of Junior High School age and below, along with accompanying family members)
TGS 2017 Event Info
Venue:               Makuhari Messe (Mihama-ku, Chiba city, Chiba prefecture)
Period:                Business Days*: 10 AM–5 PM, September 21st & 22nd
*Admission restricted to trade visitors and members of the press
Period:                Public Days: 10 AM–5 PM*, September 23rd & 24th
*Doors may open at 9:30 AM on Public Days depending on the situation
About Happy Ningels
Puzzle adventure game with curious ninja babies on a great adventure. With U Vice President and COO Yukako Yamaguchi not only created the characters in this Facebook app, but was also responsible for overseeing all non-programming aspects of the development process.
Return Top