Blog post
Happy Ningels Participate in Kansai Television (KTV) 8th Anniversary Event
2018.11.29
Comments Off

on Happy Ningels Participate in Kansai Television (KTV) 8th Anniversary Event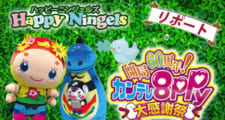 Happy Ningels Join Event Celebrating 60th Anniversary of KTV's Founding
Happy Ningels had its very own booth at the KTV "Kansai Television 60th Anniversary Gala" event—held in celebration of the 60th anniversary of the station's founding—over the weekend of November 17th to 18th. Given KTV's status as a major station boasting a lineup full of popular shows representing the Kansai region, it should come as no surprise that over 30,000 people came to partake in this celebratory event.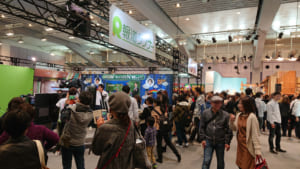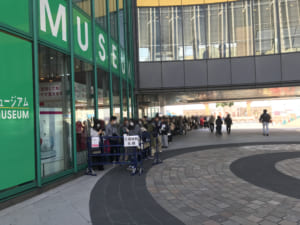 Hosted in the Osaka South Bay ATC (Asia-Pacific Trade Center) Hall, the event brought together booths and displays for popular KTV programs, stretching across the venue that would welcome crowds of people throughout the weekend. It proved so popular that visitors were forming lines outside the venue, waiting to enter!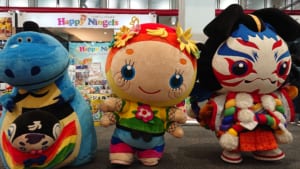 The Happy Ningels booth featured playable demos of both Happy Ningels and Tasty Trek, with a curated selection of game-related merchandise drawing interest from those who stopped by.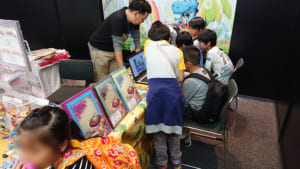 Popular as ever with eventgoers, Molly and friends were in high spirits.
KTV's Hachiemon mascot and Ohta's Isan mascot Ohtai-nyan came over to mingle and take photos with the Ningels.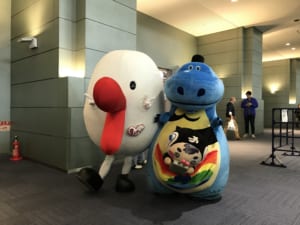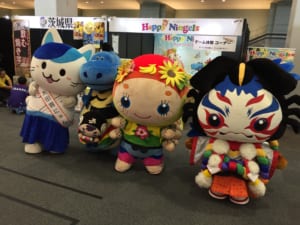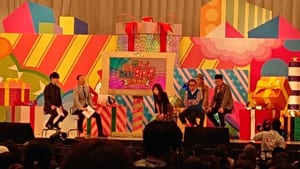 Popular entertainers Koji Higashino and You Yokoyama (Kanjani Eight member) served as the primary on-stage presenters, joined by a whole host of well-known guests.
Shimofuri Myōjō, the duo who previously joined Molly and friends for the Popteen Atsumori Festival, proved again to be extremely popular, taking the event to a whole new level.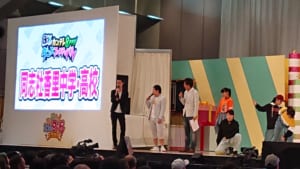 ↓For more information on the Popteen Atsumori Festival, check out the link below:
https://www.happyningels.com/news/popteen_event_report_en/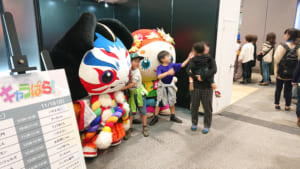 Commemorative photos were taken alongside other regional mascots from throughout Japan at the Chara (Kyara) Para booth, hosted by the eponymous show that introduces mascots and their respective regional affiliations.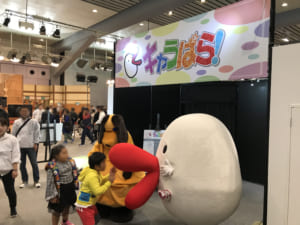 When the time came for Molly and friends to join in the fun, they were met with visitors eager to snap a commemorative photo.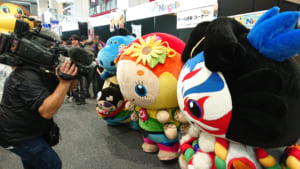 KTV's Hachiemon and Manma-chan from the talk show Sanma no Manma were among the other popular mascots.
Footage of the event will be shown as part of the Coro Coro Coronbasu (Columbus) program scheduled to air January 6th, 2019 (for those in the Kansai region), so make sure to check it out!
Molly, Eme, and Kimbo seemed a bit nervous surrounded by the filming crew…
With the support of the entertainers, exhibitors, related staff, and all those who attended, the "Kansai Television 60th Anniversary Gala" event was a great success.
Keep your eyes peeled for future Happy Ningels events—we've got lots planned!
Return Top