Blog post
Happy Ningels' Molly and Eme Take a Break from Winter for Inflatable Fun at Sapporo Dome—Visit Them at Booth #52!
2016.12.22
Comments Off

on Happy Ningels' Molly and Eme Take a Break from Winter for Inflatable Fun at Sapporo Dome—Visit Them at Booth #52!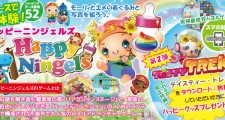 With U Co., Ltd.'s Happy Ningels will participate in the "Fuwa Fuwa Adventure" event being held at Sapporo Dome Saturday, January 7th through Monday the 9th, 2017. During this fun-filled event, a stand-alone version of Happy Ningels will be available for visitors to play, various game-related merchandise will be on sale, and main characters Molly and Eme will be on hand to pose for commemorative photos.
Both kids and adults are sure to enjoy "Fuwa Fuwa Adventure 2017," a safe and fun option for some warm indoor entertainment during the winter break. With U will have a booth at the event throughout the long weekend of January 7th through 9th, providing visitors with ample opportunity to play, enjoy, and interact with the popular Happy Ningels. Not only will a stand-alone version of the popular Happy Ningels game will be available to play, but visitors can take advantage of a special limited-time promotional campaign for downloads of the follow-up puzzle app Tasty Trek, with those who participate rewarded with a selection of original merchandise. Molly and Eme will be there in costumed form as well, more than happy to pose for pictures at the Happy Ningels booth (#52), in the "Shopping Zone"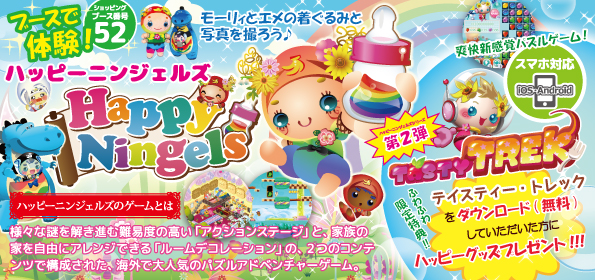 A popular annual event, Fuwa Fuwa Adventure brings together all kinds of air-filled and inflatable attractions (so-called fuwa fuwa in Japanese) for visitors to enjoy. Furthermore, this year's event will include a giant 3D maze ("Mega Maze") for the first time ever. While some attractions are limited to the target age groups (listed below), the special Shinkansen section and huge 34 meter–long "Stadium Slider" are among those that can be enjoyed by kids and adults alike, making it fun for the whole family.
What is Fuwa Fuwa Adventure?
A collection of large inflatable attractions and related events, assembled for the bouncing and playful fun of children between preschool and elementary school age. While admission to Sapporo Dome is free of charge, tickets or a special "Fuwa Fuwa Passport" are required in order to participate in activities and enjoy attractions. Advance tickets are available for purchase at locations indicated on the official website.
Event Details
Name: Todokku 10th presents Fuwa Fuwa Adventure in Sapporo Dome
Dates: Saturday, January 7th–Monday, January 9th, 2017
Time: 10 AM–5 PM (all three days)
Venue: Sapporo Dome (1 Hitsujigaoka, Toyohira-ku, Sapporo-shi, Hokkaido)
Sponsorship: Television Hokkaido Broadcasting, Sapporo Dome
Special Support: Consumers' Cooperative CO-OP Sapporo
Support: NISSENREN S-CORT
Backing: City of Sapporo, Sapporo Board of Education, Hokkaido Shimbun Press
Admission: Free of cost (individual attractions and activities require tickets)
Inquiries: "Fuwa Fuwa Adventure" Office (TEL: 011-200-7885; 10 AM–5 PM, M–F)

For more information, check out the official event website (in Japanese):
Return Top