Blog post
Happy Ningels' Molly and Eme Join Other Popular Mascots for "Super Chara Expo"
2016.04.27
Comments Off

on Happy Ningels' Molly and Eme Join Other Popular Mascots for "Super Chara Expo"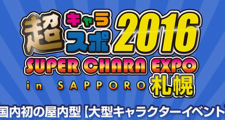 Popular Game Characters to Appear at Mascot Event held at Sapporo Convention Center from April 29th to May 1st
With U Co., Ltd. will participate in the "Super Chara Expo in Sapporo" mascot event—the first such large-scale indoor event of its kind in Japan—to be held at the Sapporo Convention Center from Friday, April 29th, through Sunday, May 1st, 2016. Main character Molly and her compatriot Eme from the popular social gaming app Happy Ningels are set to appear in costumed form, at booth number 24 in the Main Hall of the Sapporo Convention Center.


"Super Chara Expo in Sapporo" represents the first in a series of "Super Chara" events being held starting this year, with plans for further such events to be held over the next two years at up to ten different venues throughout Japan. With the event primarily being held indoors, and therefore less subject to variations in weather, an impressive lineup of mascots has been arranged, including scheduled appearances by Funassyi, Nebaru-kun, Sanomaru, and Melon Kuma. Needless to say, a wide variety of popular "Chara" (mascot "characters") are set to participate, with regional and promotional mascots representing various companies, products, and locales from throughout Japan. Visitors are sure to enjoy the opportunity to mingle with their favorite mascots during this large-scale and entertaining event.


During the Expo, mascot appearances will be accompanied by lively shows and performances, along with sales of various regional products and mascot-related merchandise. A selection of food trucks will provide various outdoor dining options, with further specialties also planned to highlight food items from the different regions of mascots participating in the event. Come enjoy a three-day weekend of mascot-filled fun with Molly and Eme!
Event Details
Name: Super Chara Expo 2016 in Sapporo
Dates: Friday, April 29th–Sunday, May 1st, 2016
Time: 9 AM–5 PM
Venue: Sapporo Convention Center (Main Hall and other locations)
Main Host: Sapporo Television Broadcasting Co., Ltd.; Doshin Bunka Jigyo-sha; Sapporo Convention Center
Sponsors: Hokkaido Government, City of Sapporo, Sapporo Board of Education
Planning: "Super Chara Expo 2016" Project
Planning Support: Zepp Live Inc., Lawson HMV Entertainment Inc.
Production: Toei Company, Ltd.; Pier21 Co., Ltd.
Admission: ¥800 for Adults and children 13 and older; ¥600 for children 12 and younger (free for children under three)
For more information, check out the official event website (in Japanese):
http://www.super-chara-expo.jp/
Return Top