Blog post
Molly and Eme at "Yuru Tabe Live in Otaru 2016"
2016.06.22
Comments Off

on Molly and Eme at "Yuru Tabe Live in Otaru 2016"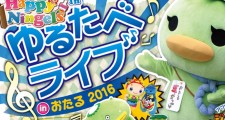 Molly and Eme Set to Participate in Exclusive"Yuru Tabe Live in Otaru 2016" Mascot Event
With mascots, food, and live performances galore, this year's "Yuru Tabe Live in Otaru" will be hosted from 10 AM to 4 PM on Saturday, July 2nd, in the 1st Floor "Nature Chamber" atrium at Wing Bay Otaru.
The city of Otaru, famous for its canals, plays host to one mascot event: "Yuru Tabe Live in Otaru," held at the Wing Bay Otaru commercial complex—the largest such facility in Otaru. Molly and Eme from With U Co. Ltd.'s popular game Happy Ningels, produced locally in Sapporo, are set to participate in this exclusive event as regional mascots.
The event began two years ago as a birthday celebration for local mascot Ungappa, before being rebranded as "Yuru Tabe Live" last year, when 2000 people came out for a day of regional cuisine and performances by local artists. This year marks the third hosting, with the event venue switching to the Wing Bay Otaru, conveniently connected to JR Otaru Chikko Station. With an atrium that opens from the ground floor and reaches up four stories, the "Nature Chamber" event space is located in one of the largest shopping malls in Hokkaido, with a centrally-located stage that can be viewed from each floor. Directly connected to nearby Otaru Chikko, the venue can be easily accessed from New Chitose Airport via the JR Hokkaido Rapid Airport train (65 minutes) or from Sapporo with a short 30-minute drive on the Sasson Expressway.
Last year's event was full of entertainment: along with the opportunity to interact with various mascots and enjoy the on-stage performances, guests were treated to live performances of mascot theme songs by local artists, a selection of specialty food booths, and even an on-site live radio broadcast by local station FM Otaru. This year's event is set to build upon the success and popularity of last year's, preserving these elements while incorporating plans for new additions.
With the brief Hokkaido summer settling in, "Yuru Tabe Live" is the perfect opportunity to enjoy the beautiful waterfront vista of Otaru with Molly and Eme.
Event Details
Name: "Yuru Tabe Live in Otaru 2016"
Time & Date: 10 AM to 4 PM, July 2nd (SAT)
Venue: 1st Floor "5th Avenue Nature Chamber" @ Wing Bay Otaru
(directly connected to JR Otaru Chikko Station in Otaru, Hokkaido)
Main Host: Otaru Gotōchi Ōentai (local booster club)
Ishii Printing Company, Ltd.
Aioicho 8-13, Otaru, Hokkaido
TEL: 0134-23-8484
Sponsors: Otaru City Government; Otaru Tourism Association; FM Otaru; Japan Local Character Association, Hokkaido Branch
Admission: Free
Information from Last Year's Event
Approximately 2000 visitors
Approved as FY 2015 Otaru City Government Furusato Machizukuri Kyōdō Jigyō (joint project in support of hometown community development)
For information on participating mascots and other event details, check out the following websites:
http://shisyoudou.com/ (in Japanese)
Otaru Tourism Association (in English)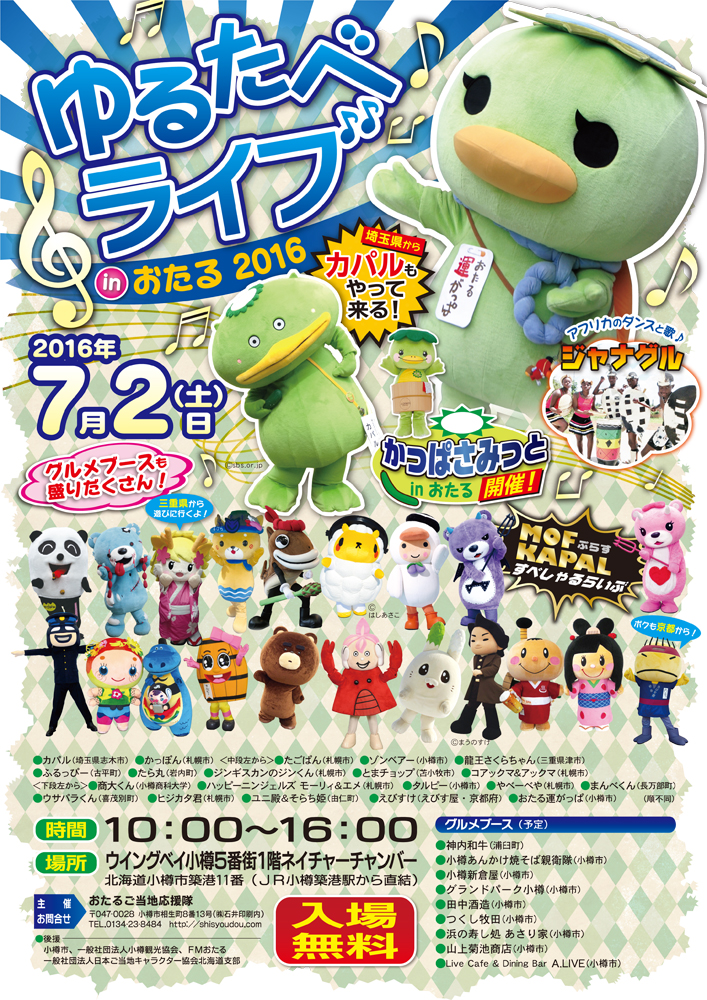 Return Top